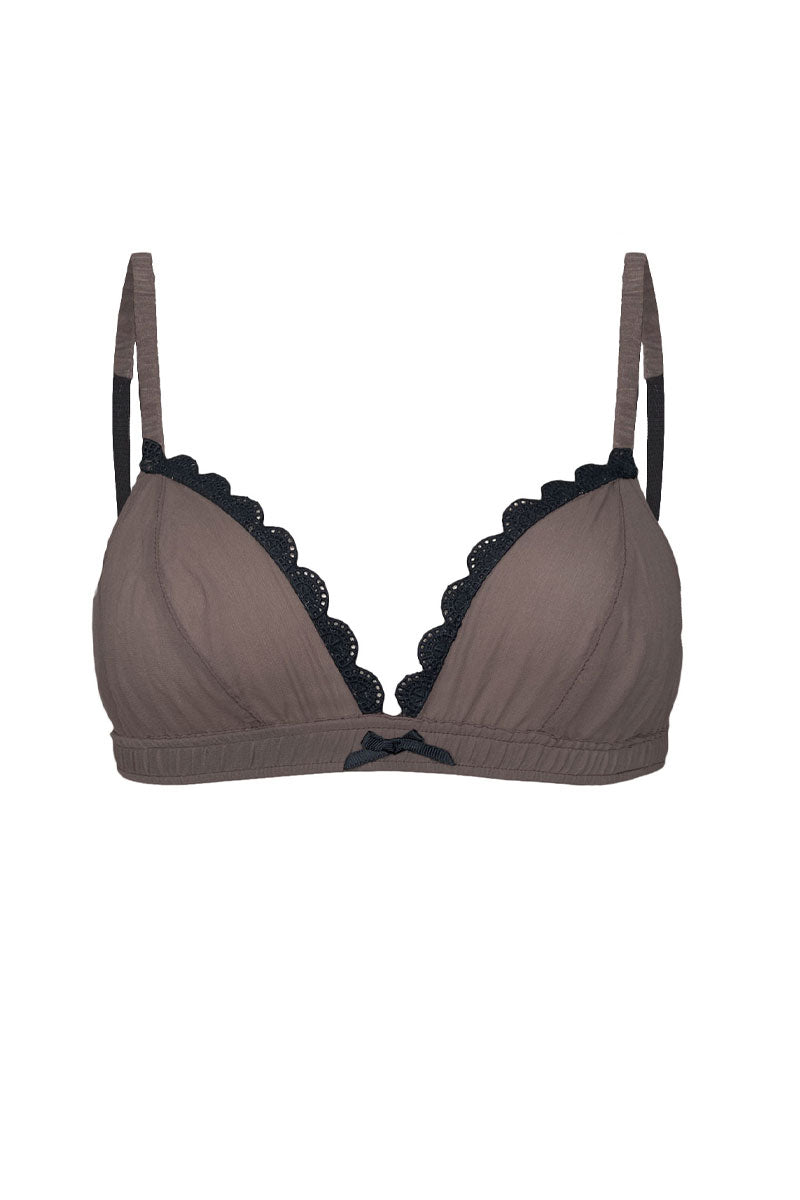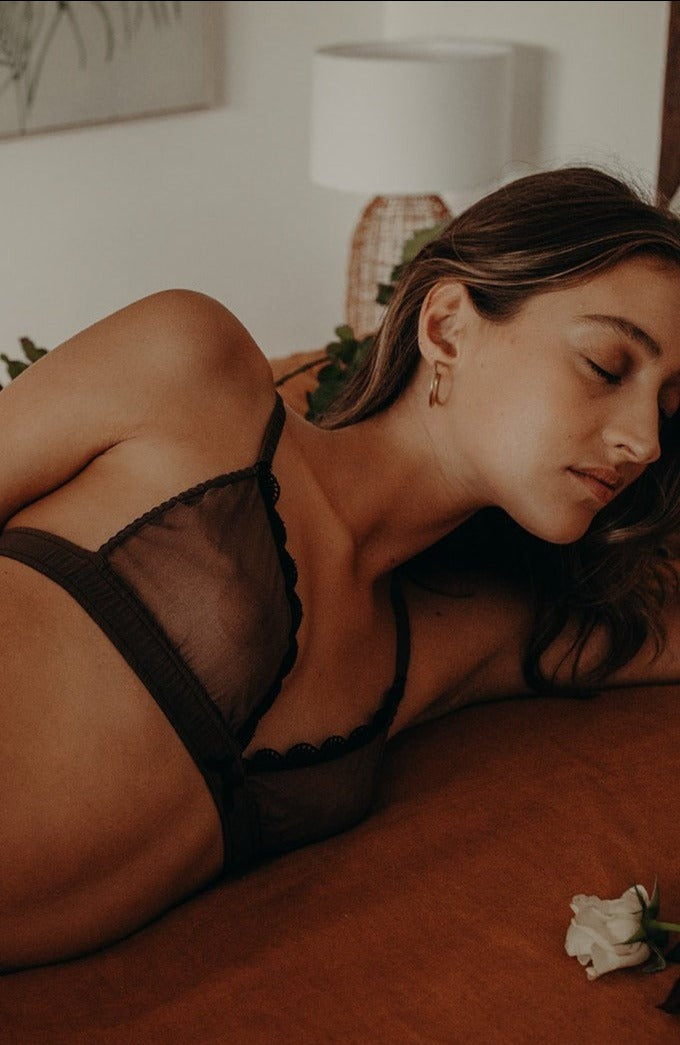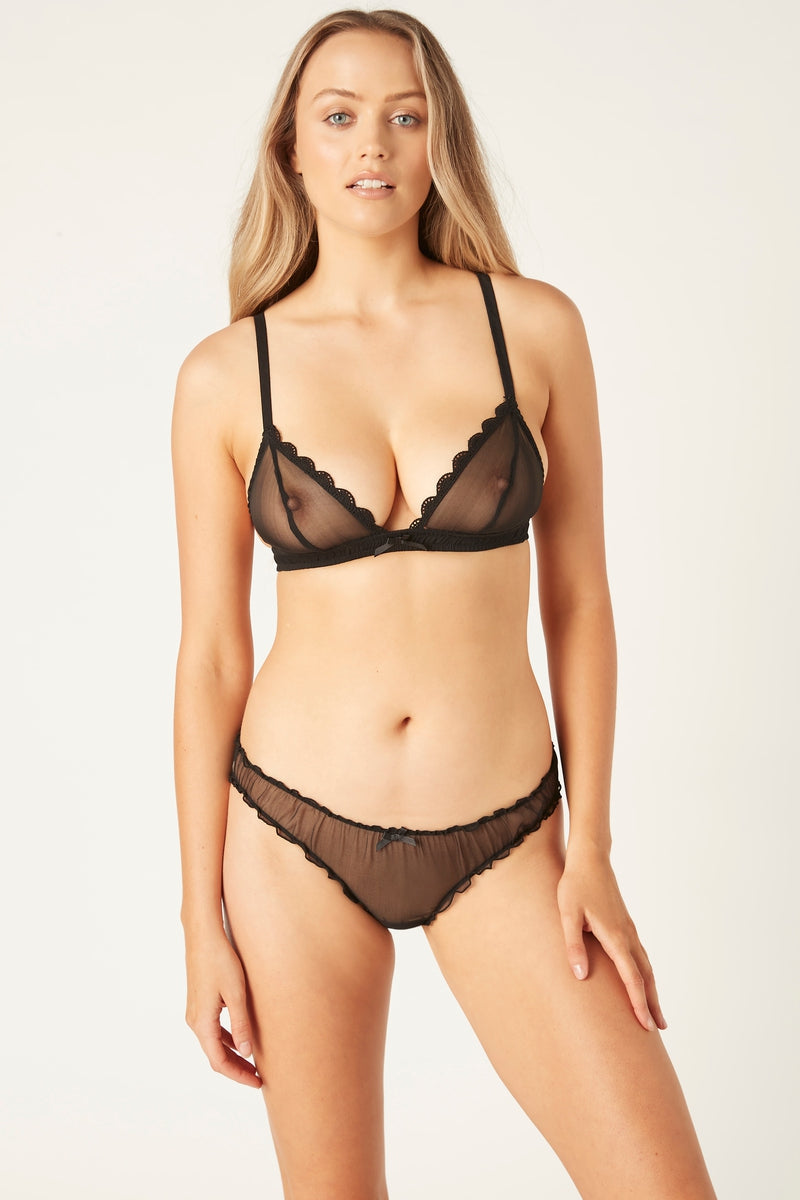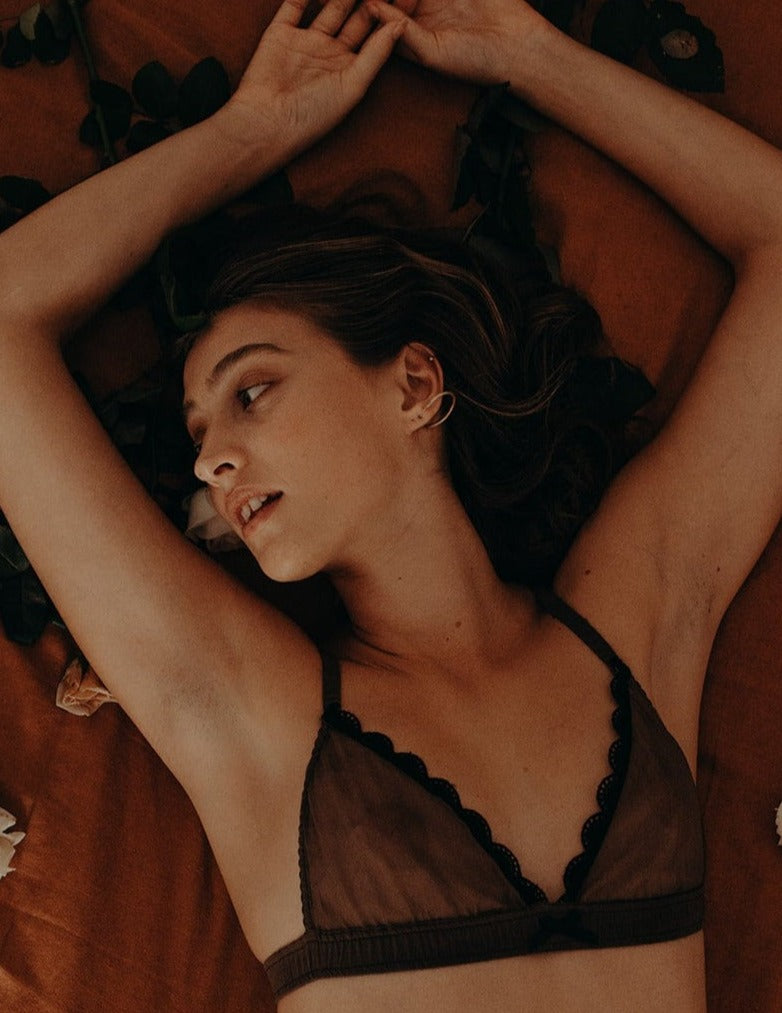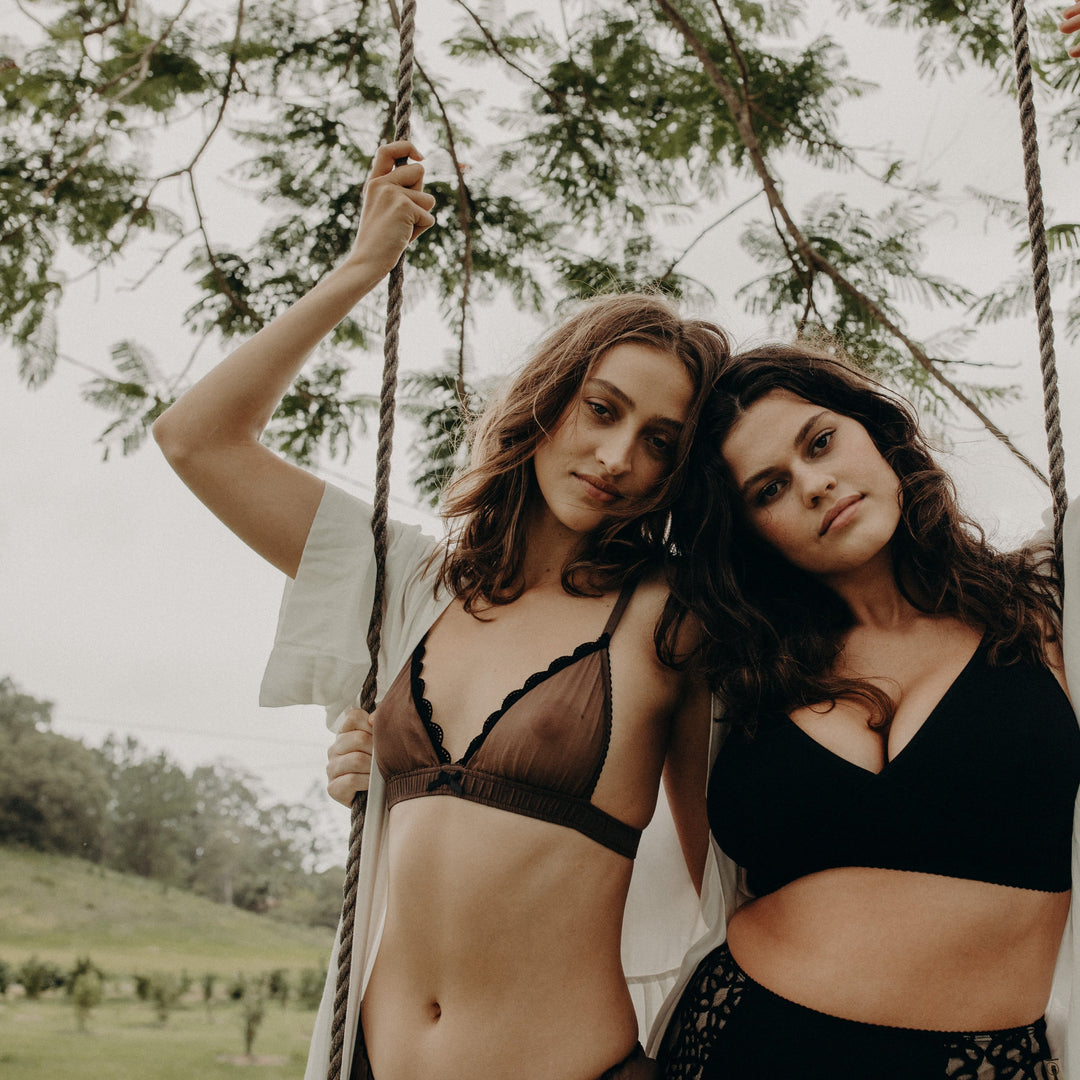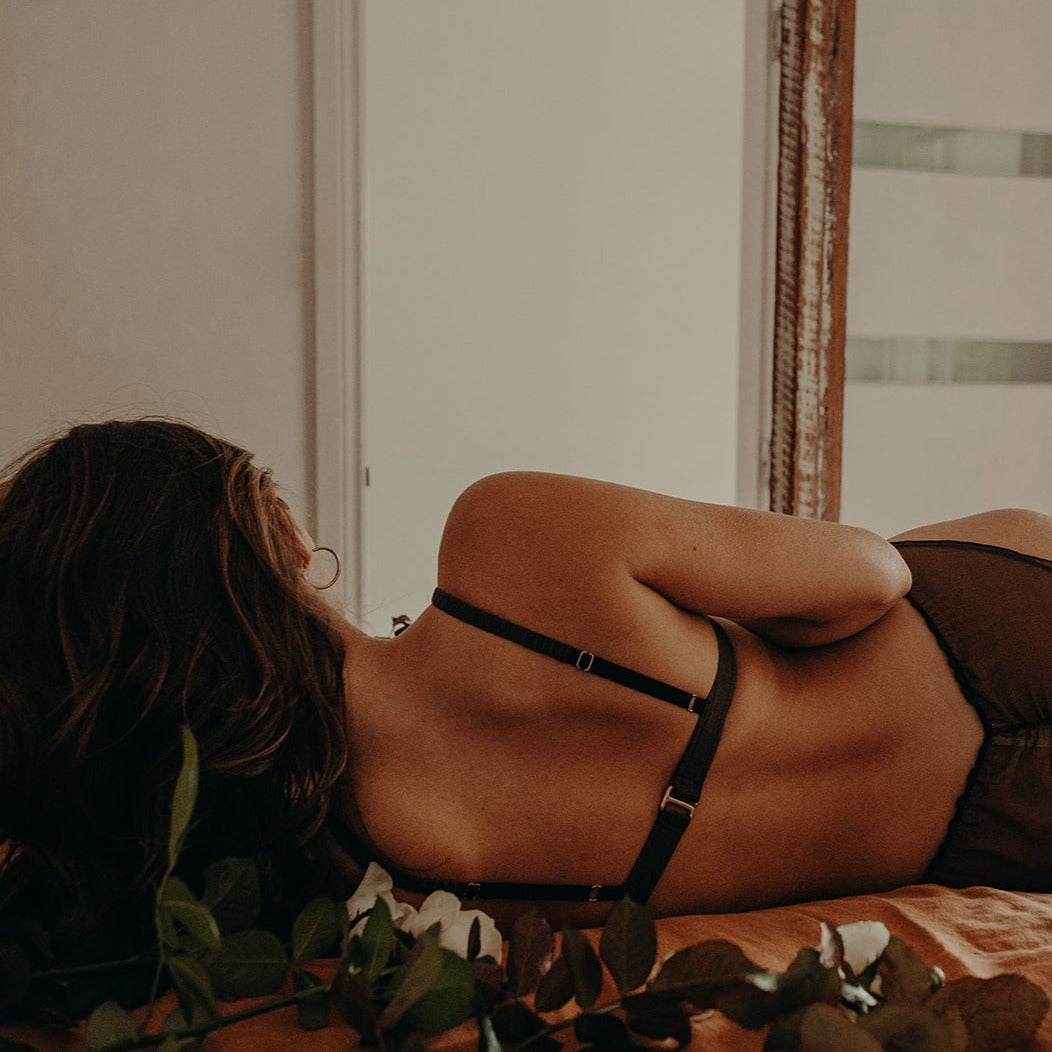 SOLD OUT Bella sheer silk bralette in Mocha
---
A special limited edition Mocha silk chiffon, made just for our Embrace Collection. We have only made a small run in this colour, so grab them while  available. 
Pure natural luxe - Bella bralette in a sheer mocha brown silk chiffon, trimmed with black lace. Featuring ruched straps, cups trimmed with broderie cotton lace and finished with a grosgrain bow. 
With top stitched seams, quality fabrics and trims, our sustainability ethos is making pieces to last the test of time with focusing on quality, craftsmanship and timeless designs. 

Bella Sheer Bralette features:
2.5cm under-bust band, that is stitched down so it doesn't twist. 
Main fabric: 100% silk georgette-chiffon
Lace trim: 100% cotton
Nickel free gold metal rings, sliders and hook
SIZING NOTES: Small in the cup - size up in the bralette
Our model Gabriella is a 10b and wearing size XS in the Bella bralette (in Mocha colour-way)
Our studio model, Mikayla, is a 10DD and wearing the size Medium in Bella bralette (in black colour-way)
If you are a C cup and over we recommend sizing up from your usual Bella sizing for the Silk Chiffon, as they have arrived a little smaller in the cup than our usual style. 
You can find the size chart for the Bella bralette here.
Mikayla, our studio model, is a 10DD and wearing the M, which is too small for her bust and we would size her up to a XL in this style. 
In the following is Martina, a size 12D and wearing size XL in the Bella bralette with our Organic cotton Frances shorts. 
WELCOME CODE Sometimes there is a small delay in this email arriving in your inbox. Check your spam/junk folder and if it has not arrived just shoot us an email and we will personally get it straight out to you. 
PRE-ORDERS To save shipping costs we ship your full order together, once the pre-ordered piece is in stock. We can send the in stock items first, just let us know which you would like in the note section at checkout.
Please let us know if you need your order by a certain date. 
CURRENCY Our store is set to change to your local currency by default, if there is an issue, the setting is in the top right of your browser. 
SHIPPING DUTIES While you are not charged any GST (AU TAX) on orders made outside Australia, please note your shipping our costs do not include the taxes or duties your country may require. These are payable once you receive your order and you will either be contacted by the shipping provider if they are required. 
AFTERPAY Want to pay your your order in instalments? AfterPay is a great way to do this.
Some customers have told us that is can be difficult to find AfterPay during the check out procedure, so once you get to payment section just click 'Alternative pay options' and you will find the AfterPay option there. Email if you have difficulty. 
We also offer AfterPay across borders, which allows our New Zealand, Canada and UK customers to have access to AfterPay payment options. Please note due to currency conversions the final amount may differ from the amount displayed.
For detailed shipping information visit our Shipping Terms and Conditions
Subscribe and you join our VIP club for exclusive
updates & offers to your inbox.
We offer exclusive updates and offers to our Eco Intimates VIP List. As a subscriber, not only do you get early access to all of our sales and our new collection launches but as thanks for joining, we'll also send you an exclusive 15% discount code on your first purchase when you sign up today!
All you need to do is to sign up via the form below and accept the email marketing option (we promise not to spam you, of course!)
*Please note discount is available for full priced styles, and does not include SALE or bundles. Only one discount can be used at a time